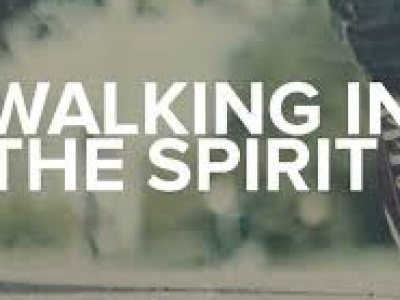 Message 3 – You Must Live in the Spirit
May 13, 2018
Galatians 5:25 New King James Version (NKJV)
25 If we live in the Spirit, let us also walk in the Spirit.
Luke 11:9-13 New King James Version (NKJV)
Keep Asking, Seeking, Knocking
9 "So I say to you, ask, and it will be given to you; seek, and you will find; knock, and it will be opened to you. 10 For everyone who asks receives, and he who seeks finds, and to him who knocks it will be opened. 11 If a son asks for bread from any father among you, will he give him a stone? Or if he asks for a fish, will he give him a serpent instead of a fish? 12 Or if he asks for an egg, will he offer him a scorpion? 13 If you then, being evil, know how to give good gifts to your children, how much more will your heavenly Father give the Holy Spirit to those who ask Him!"
1 Samuel 9:19-10:1 New King James Version (NKJV)
19 Samuel answered Saul and said, "I am the seer. Go up before me to the high place, for you shall eat with me today; and tomorrow I will let you go and will tell you all that is in your heart. 20 But as for your donkeys that were lost three days ago, do not be anxious about them, for they have been found. And on whom is all the desire of Israel? Is it not on you and on all your father's house?"
21 And Saul answered and said, "Am I not a Benjamite, of the smallest of the tribes of Israel, and my family the least of all the families of the tribe of Benjamin? Why then do you speak like this to me?"
22 Now Samuel took Saul and his servant and brought them into the hall, and had them sit in the place of honor among those who were invited; there were about thirty persons. 23 And Samuel said to the cook, "Bring the portion which I gave you, of which I said to you, 'Set it apart.'" 24 So the cook took up the thigh with its upper part and set it before Saul. And Samuel said, "Here it is, what was kept back. It was set apart for you. Eat; for until this time it has been kept for you, since I said I invited the people." So Saul ate with Samuel that day.
25 When they had come down from the high place into the city, Samuel spoke with Saul on the top of the house. 26 They arose early; and it was about the dawning of the day that Samuel called to Saul on the top of the house, saying, "Get up, that I may send you on your way." And Saul arose, and both of them went outside, he and Samuel.
Saul Anointed King
27 As they were going down to the outskirts of the city, Samuel said to Saul, "Tell the servant to go on ahead of us." And he went on. "But you stand here awhile, that I may announce to you the word of God."
10 Then Samuel took a flask of oil and poured it on his head, and kissed him and said: "Is it not because the Lord has anointed you commander over His inheritance?