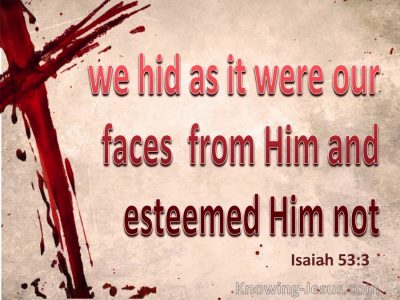 Possess the Land 08 – The Land of the Emotions – The Bruise of Rejection
September 29, 2019
Isaiah 53:1-3
1 Who has believed our report? And to whom has the arm of the Lord been revealed? 2 For He shall grow up before Him as a tender plant, and as a root out of dry ground. He has no form or comeliness; and when we see Him, there is no beauty that we should desire Him. 3 He is despised and rejected by men, a Man of sorrows and acquainted with grief. And we hid, as it were, our faces from Him; He was despised, and we did not esteem Him.
Ephesians 4:31-32
31 Let all bitterness, wrath, anger, clamor, and evil speaking be put away from you, with all malice. 32 And be kind to one another, tenderhearted, forgiving one another, even as God in Christ forgave you.
Isaiah 54:4-6
4 "Do not be afraid; you will not be put to shame. Do not fear disgrace; you will not be humiliated. You will forget the shame of your youth and remember no more the reproach of your widowhood. 5 For your Maker is your husband—the Lord Almighty is his name—the Holy One of Israel is your Redeemer; he is called the God of all the earth. 6 The Lord will call you back as if you were a wife deserted and distressed in spirit—a wife who married young, only to be rejected," says your God.
Jeremiah 30:17
17 But I will restore you to health and heal your wounds,' declares the Lord, 'because you are called an outcast, Zion for whom no one cares.'
Ephesians 1:3, 6
3 Blessed be the God and Father of our Lord Jesus Christ, who hath blessed us with all spiritual blessings in heavenly places in Christ … 6 To the praise of the glory of his grace, wherein he hath made us accepted in the beloved.
2 Corinthians 3:18
18 And we all, who with unveiled faces contemplate the Lord's glory, are being transformed into his image with ever-increasing glory, which comes from the Lord, who is the Spirit.
Ephesians 2:10 10 For we are His workmanship, created in Christ Jesus for good works, which God prepared beforehand that we should walk in them.
2 Corinthians 5:17
17 Therefore, if anyone is in Christ, he is a new creation; old things have passed away; behold, all things have become new.
Hebrew 4:15-16
15 For we do not have a High Priest who cannot sympathize with our weaknesses, but was in all points tempted as we are, yet without sin. 16 Let us therefore come boldly to the throne of grace, that we may obtain mercy and find grace to help in time of need.